A personal injury demand letter involves explanation of how the insured is at-fault, the damages and injuries sustained by the plaintiff, and compensation demanded.  A demand letter is used to settle the personal injury case, usually before filing a lawsuit in court.  A well-prepared demand letter must include the facts about the incident, injury, medical treatment and medical bills, with the objective of convincing the insurance company to settle the case.
Medical records review is a crucial step in demand letter preparation, which helps establish the existence of an injury as well as its type, severity, and cause. Drafting a strong demand letter requires good writing skills, attention to detail, and knowledge of each injury. Often attorneys prepare the demand letter, representing the victim. The demand letter will be sent to the insurance carrier with a deadline of typically two to three weeks for a response to evaluate the plaintiff's damages.
Important Elements of a Personal Injury Demand Letter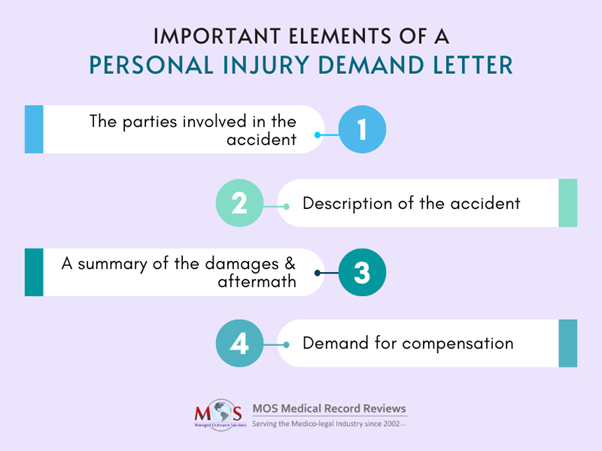 The parties involved in the accident
the at-fault party's insurance policy number
victim's identity and contact information
Description of the accident
how the victim got injured
why the at-fault party should be held liable
A summary of the damages and aftermath
victim's damages and injuries
the medical conditions diagnosed
how painful and debilitating the injury is
Demand for compensation
victim's demand for compensation for losses
The summary of the damages also covers a listing of the expenses or lost revenue that the victim has experienced such as – medical bills, lost wages, and costs to repair or replace property damage. Other details that need to be included in a demand letter are – the date of the accident, name of the insured and policy number, if available, events that led to the accident, explanation of non-economic damages, available photos of the incident, the victim's/claimant's contact information, and a summary of anticipated future medical expenses.
At MOS, our team is well experienced in preparing medical records summary that would include all the important medical events to help personal injury attorneys access the key points easily while preparing a demand letter, to prove the case.
Talk to our team at 1-800-670-2809!