Medical peer review holds immense importance for healthcare organizations and insurers due to several compelling reasons. Firstly, it ensures the delivery of high-quality and appropriate medical care to patients. Through expert evaluations, peer review helps identify any potential errors or deviations in treatment, leading to improved patient outcomes and safety. Secondly, it aids in controlling healthcare costs by identifying unnecessary or ineffective treatments, thus promoting cost-efficiency and resource optimization. Thirdly, peer review provides an objective and unbiased assessment of medical cases, which is particularly valuable in cases of disputes or legal challenges. This impartial evaluation helps insurers make well-informed payment decisions, settle claims, and defend against unfounded claims during mediations.
Peer review services help healthcare organizations ensure continuous improvement and professional development. It allows practitioners to learn from their peers' feedback and enhance their practices, ultimately raising the overall standard of care. The process plays a pivotal role in enhancing healthcare quality, patient safety, and cost-effectiveness, benefiting both healthcare organizations and insurers in their pursuit of excellence.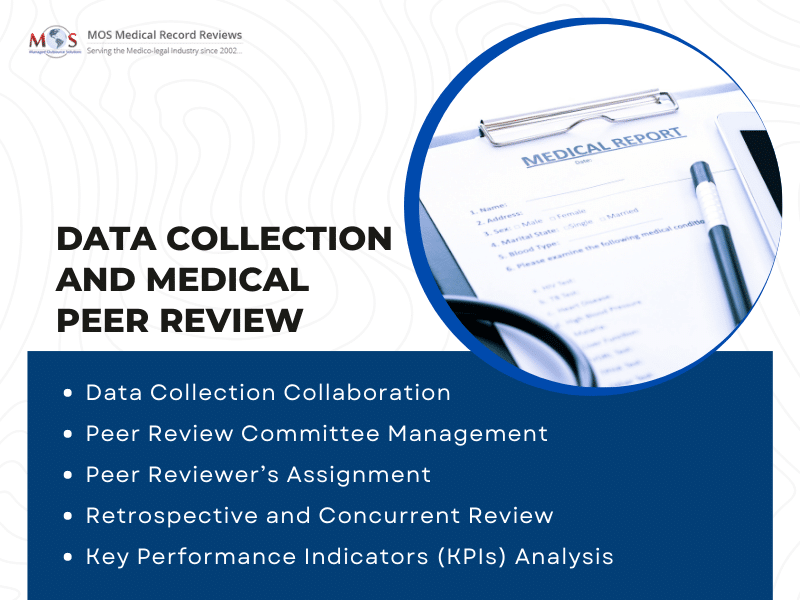 5 Stages in Data Collection and Medical Peer Review
Data Collection Collaboration: The medical staff services department and the quality assurance department work together to collect and compile the necessary data required.
Peer Review Committee Management: The overall management of the peer review function is carried out by a departmental or multidisciplinary peer review committee or multiple committees. These committees report to the medical executive committee and the board.
Peer Reviewers Assignment: In each case, a peer reviewer or a group of peer reviewers are assigned to conduct the review process. These reviewers are usually qualified medical professionals with expertise in the relevant medical specialty.
Retrospective and Concurrent Review: The peer review is conducted both retrospectively, looking at past cases, and concurrently with the ongoing provision of care. This allows for a comprehensive evaluation of the quality of care provided.
Key Performance Indicators (KPIs) Analysis: The peer review process includes an assessment of key performance indicators (KPIs) for each physician involved. These indicators help identify areas for improvement and assist practitioners in enhancing the quality of care they deliver.
When choosing a medical review company for medical peer review services, consider several crucial factors such as – expertise and qualifications, credibility and reputation, accreditation and compliance, customization and flexibility, timeliness and efficiency, technology and security, transparency and communication, compliance with regulations, cost-effectiveness and more to ensure that you receive reliable, accurate, and valuable evaluations.