Medical Peer Review Services
Medical Peer Review Services to Improve Medical Care Standards

Medical peer review plays a key role in health insurance claims processing. It helps determine whether the treatment provided to a patient was medically necessary and whether the claim is legitimate. Often, insurers appoint physicians to review and analyze medical records and prepare peer reports. Also referred to as insurance peer review, the process is recommended if an insurer considers certain treatments to be unreasonable or unnecessary. A peer review will challenge the bill / claim for the medically unnecessary treatment.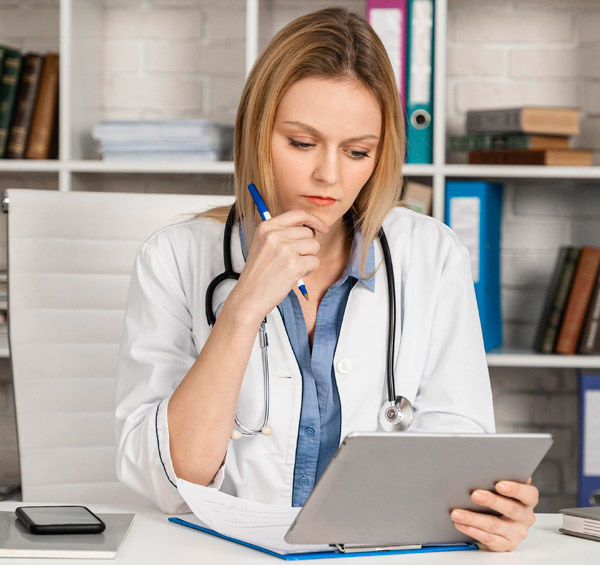 At Managed Outsource Solutions (MOS), we provide comprehensive support with customized medical peer review services for all major medical specialties and subspecialties. To provide an accurate report, the peer review physician would have to evaluate many records related to diagnosis, standard of care, level of impairment, restrictions and limitations, as well as return-to-work concerns.
Here's where MOS can support.
Our medical peer review services also help review organizations, physicians and law firms efficiently deal with complex care management issues, sentinel events, Workers' Compensation cases, and liability claims.
Check Out Our Free Trial Offer
Call us today at 1-800-670-2809 and find out how we can be of assistance.
Why Physicians Need Peer Review Support

Peer review report is also used as a valuable legal document for claim acceptance or denial. To prepare a fair and objective medical peer review report, the reviewing physician will have to –
provide appropriate answers to all questions raised by the insurer, justifying each answer with strong rationale
include all details regarding treatment procedures the claimant has undergone before the specific medical service covered under the health plan
include necessary inferences in the report to avoid any kind of confusion
How We Make Your Peer Review Process Easy

Our proficient team of professionals including physicians, registered nurses, documentation specialists, editors and proofreaders provide reliable medical review support, which also includes proper medical record organization and indexing.
We support physicians to prepare their reports quickly and efficiently and submit it to the insurance company.
We can list evidence-based factors in the records that can be used to support issues to be addressed like causality, injury, functionality, restrictions and limitations, treatment advice, appropriateness of medical care provided, diagnosis and so on.
We check for missing medical documents that may be vital to the case, and make arrangements to obtain them.
We prepare accurate chronologies that will provide a clear view of all medical encounters in the sequence in which they occurred. The date and time of service, care providers and other important details will be clearly recorded.
The medical summaries we provide are concise and clearly highlight important facts of the case.
Our review team will thoroughly check for compliance and thoroughness of data.
A well prepared peer review report will also help clarify everything related to the claim for the claimant, the physician, and the attorney.
We manage your medical record review and peer review projects efficiently!
For more information about our medical peer review services, call 1-800-670-2809.