For attorneys, preparing plaintiff fact sheets and conducting mass tort medical record review can be arduous and time-consuming. Mass tort litigation involves numerous plaintiffs against one or more defendants in state or federal court, necessitating the review of voluminous medical records to establish the case. In mass tort cases, a plaintiff's harm can be proven by documenting the diagnosis of the injury or illness, all medical care received, and predictions for future treatment.
Partnering with a litigation support provider to handle medical record review tasks can simplify the process for attorneys and law firms. Chronologically sorted and well-organized medical records allow for easy access to specific medical information, enabling attorneys and legal consultants to review records more efficiently. The medical record review process involves collecting and organizing medical records, reviewing medical records, and summarizing key points on injuries and harm allegedly caused by defendants. With the assistance of a litigation support provider, attorneys can streamline the medical record review process and focus on other important case-related tasks.
By partnering with a professional medical record review company, attorneys can ensure a smooth and successful litigation process. These companies will have a team of expert record reviewers and nurse consultants who have overseen numerous mass tort projects for injuries caused by toxic exposures, defective medical devices, and dangerous drugs. They are well-versed in medical record types, medical terminologies, and standard medical practices.
Benefits of Outsourcing Mass Tort Medical Record Review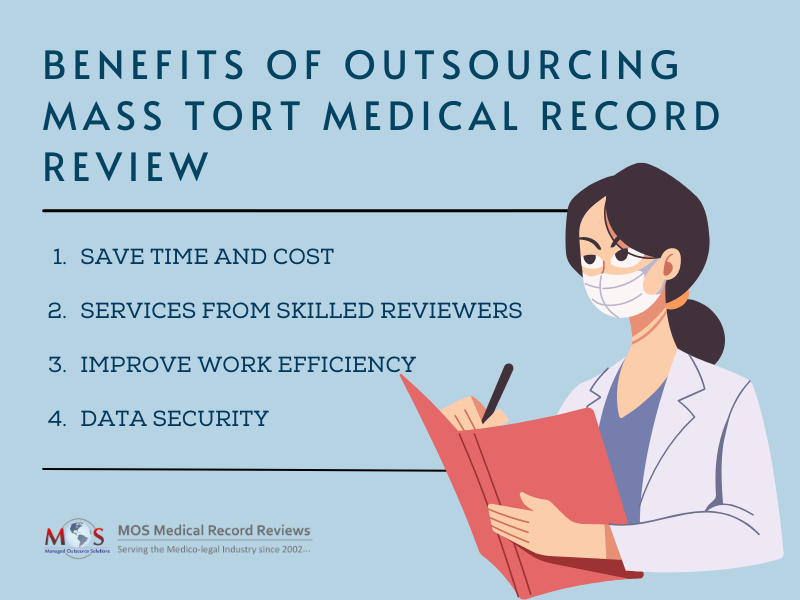 Here are the benefits of outsourcing mass tort medical record review –
Save time and cost
Save on the cost of hiring staff
Save time spent examining medical records
Save time and effort spent trying to comprehend complex medical terminology and abbreviations
Services from skilled reviewers
Get expert support in –
Collecting and organizing medical records
Bookmarking and highlighting relevant content
Reviewing the medical records
Preparing the medical case chronology
Determining case merit
Summarizing the key points
Improve work efficiency
Law firms can –
concentrate on the litigation
focus more on the non-medical perspectives of the case
Data Security
Expert litigation support can–
keep information confidential
help conduct risk assessments
help perform regular self-audits
A proficient medical records reviewer has expertise in the intricacies of the review process and can handle the task efficiently, guaranteeing a favorable outcome within a reasonable timeframe. Soft skills and subject knowledge are essential for medical record review experts to handle voluminous medical records. Additionally, skilled reviewers can highlight a medical opinion from a provider on any matter related to the case. They are knowledgeable in even complex medical terminology, and can also identify any missing data accurately.
By outsourcing the retrieval and review of medical records for mass tort cases, law firms can free up time and resources to concentrate on other crucial case-related tasks, such as investigating and proving liability, causation, and damages. Ensure that the litigation support provider to whom you choose to outsource your mass tort medical record review has a team of professionals with expertise in the medico-legal field and a wealth of experience in handling numerous similar cases.