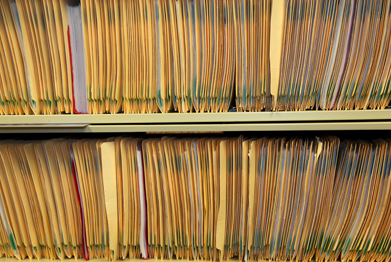 You are an attorney handling personal injury, product liability and medical malpractice cases. Voluminous medical records are part and parcel of your law office since you need them for medical chart review purposes. Prior to preparing a medical summary or reviewing you need to organize these records. The important consideration at this point is whether you have the complete chart. For this you need to know the different types of medical records maintained in the physician's office. This is also important from the point of view of identifying missing records. Here is a list of the medical records you need to have.
Initial intake form: Usually filled out by the patient, the patient intake form contains important details such as current medications taken by the patient, previous surgeries, allergies, previous hospitalizations, illnesses, vaccinations taken, social history, lifestyle habits and so on.
Initial history and physical: When seeing the patient for the first time, the physician would perform a detailed history and physical.
List of problems/Problem list: This comprises a separate and frequently updated list of medications, vaccinations and allergies along with chronic conditions/illnesses.
Results of lab, radiology, EKG and other medical services.
Office notes of visits: These may be dictated and transcribed, handwritten, or entered into an electronic medical record. Office notes are important because they contain information such as blood pressure, pulse, complaints, findings and diagnoses, treatment and plan for care and so on.
Copies of hospital records: Histories and physicals, surgery reports, consultations from other physicians, discharge summaries. Sometimes these records may not be provided, and watch out for incomplete records when these are available.
Home healthcare records: The physician's office may have directed a home care agency to provide care. Look for plan of care and discharge summaries.
Phone call records
Correspondence: Letters from the physician and those sent to him/her, those regarding outpatient services, consultation notes with other physicians, letters received from the patients or sent to them.
Prescriptions
Billing records: These must be compared with the dates of office visits to ensure that all visits are documented as notes.
Copies of disability records, notes related to return to work or excuse from work
The practical way to retrieve all records you need for the medical chart review is to utilize reliable medical record retrieval services.