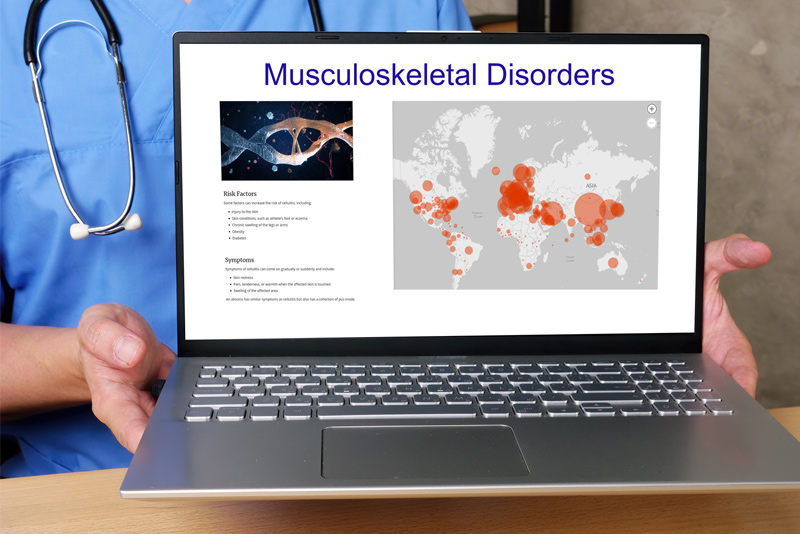 Recently, the SSA introduced major changes in the requirements of both adult and child listings for musculoskeletal disorders. These medically determinable impairments signify a variety of conditions affecting the bones, joints, muscles, spine, and connective tissues. This change is of significance to social security disability attorneys, claimants filing for disability benefits, as well as medical chart review companies assisting with disability cases. The new listings will be binding on all disability cases pending on or after April 2, 2021. This overhaul of the requirements is important because out of all the different listings, the musculoskeletal listing of impairments is among the most frequently used in social security disability cases.
New Listings for Musculoskeletal Disorders
Here is a brief look at the new listings, 1.00 (adults) and 101.00 (children), which cover the disorders of the skeletal spine such as curvature of the spine, and degenerative disc disease including disc herniation and facet arthritis, and spinal stenosis.
The listings cover disabilities of the arms and legs (e.g. abnormality of a major joint caused by arthritis in any extremity; amputation due to any cause; reconstructive surgery/surgical arthrodesis of a major weight-bearing joint; non-healing/complex fracture in an arm including the shaft of the humerus, radius, or ulna, and pathologic fractures due to any cause; non-healing/complex fractures of the femur, tibia, or pelvis) that have an impact on musculoskeletal functioning.
The listings also cover soft tissue injuries including burns that need continuing surgical management to restore function to the affected area.
It is vital to understand the new rules from the point of view of identifying the right medical evidence evidence during medical record review. Only with the right medical proof can a disability case be won.
So, what are the main changes to note in this update?
All listings have been renumbered; now they have multiple requirements.
Spinal arachnoiditis will be evaluated under listing 11.08 (neurological listings) rather than musculoskeletal listings.
The SSA has introduced a new listing for pathologic fractures caused by a disease process, rather than trauma.
There is a new listing for spinal stenosis separate from other spinal disorders.
In the new listings, the SSA emphasizes documentation from acceptable medical source such as a physician, surgeon, or nurse practitioner as well as medical imaging such as MRIs.
According to the old listings, disability applicants had to show that their musculoskeletal condition resulted in an "inability to ambulate effectively" if the condition affected their ability to walk; or that the condition resulted in an "inability to perform fine and gross movements effectively" if the condition affected their ability to use their hands. The new listings place more emphasis on whether a person uses medically necessary assistive devices all through the day. Many of the new listing's subsections include the following "functional criteria" requirement.

Impairment-related physical limitation of musculoskeletal functioning that has lasted/is expected to last, for a continuous period of at least 12 months, and medical documentation of at least one of the following:

Inability to use one upper extremity to independently initiate, sustain, and complete work-related activities involving fine and gross movements, and a documented medical need for a one-handed, handheld assistive device that requires the use of one hand; or
A documented medical need for a walker, bilateral crutches, or bilateral canes or a wheeled and seated mobility device involving the use of both hands; or
An inability to use both upper extremities to the extent that neither can be used to independently initiate, sustain, and complete work-related activities involving fine and gross movements.

Importantly, the new listing defines "documented medical need" as evidence from a medical source that supports the claimant's need for a device, and describes limitations if any, in his/her upper or lower extremity functioning and the circumstances for which he/she needs to use the assistive device.

Changes in child listings are similar to those for adults, except that an inability to perform age-appropriate activities is the criterion rather than work-related activities.
Why the SSA Introduced the Changes
The SSA informs that the new changes have been introduced to increase consistency, clarity, and equity in their determinations and decisions across adjudicative levels. The inability to ambulate effectively was not clearly defined and was open to interpretation thereby increasing the opportunity for inconsistency and inequity in medical assessments. The new functional criteria more clearly describe and represent listing-level severity. Now it is easier for someone to know whether their impairment meets or medically equals the criteria and what documentation they will need to provide along with their disability benefit application to meet a listing.
Another important thing to note is that the SSA will not terminate any person's disability benefits solely because they have revised these listings. They do not re-adjudicate previously decided cases when they revise their listings (unless otherwise required to do so, for instance, by statute). The SSA would periodically conduct continuing disability reviews (CDR) to determine whether beneficiaries continue to be disabled. However, the new rules do not change the timeframe for conducting a CDR, not does it change how the SSA conducts the CDR.
What It Means for Attorneys and Their Clients
Attorneys need to update the medical source statements that they send to healthcare providers to make sure that their clients' physicians are providing a clear picture of whether the claimant's condition meets the criteria of the new listings. As a medical chart review company working closely with disability attorneys, we understand that disability applicants would benefit from obtaining the assistance of an experienced disability lawyer. This is most important from the point of view of obtaining detailed narrative statements from the treating physicians that explain the circumstances for which claimants need to use their assistive device. Seasoned attorneys stay up to date on the SSA's frequently changing rules and regulations. They can assist disabled individuals to file the initial disability application. In case the claim is denied, disability attorneys also help with filing an appeal and ultimately securing the due disability benefits for their clients.