Social security disability benefits are granted on the basis of a detailed review of the applicant's medical records. The social security office will need all relevant medical information that includes the names of treating physicians, clinics, hospitals and their addresses, telephone numbers and the dates of treatment. They will also need the applicant's work history for the fifteen years prior to his/her disability. SSDI benefits replace a small percentage of the income people earned when they were working. Beneficiaries also receive COLA (cost-of-living adjustment) that is applicable to social security disability insurance, social security retirement, veterans' disability compensation and pension benefits, and SSI (supplemental security income) benefits. The COLA considers the rate of inflation for services and goods that people buy and is based on the Bureau of Labor Statistics' CPI-W (Consumer Price Index for Urban Wage Earners and Clerical Workers). To calculate COLA, the third quarter results from data for the current year is compared to the same quarter of the previous year.
A recent SSA release says that there will be no COLA increase in 2016 for the nearly 65 million Americans who receive social security disability, supplemental security income, and veteran benefits. The Bureau of Labor Statistics has determined that there was no increase in the CPI-W from the third quarter of 2014 to the third quarter of 2015. Under existing law, there can be no COLA for the coming year 2016.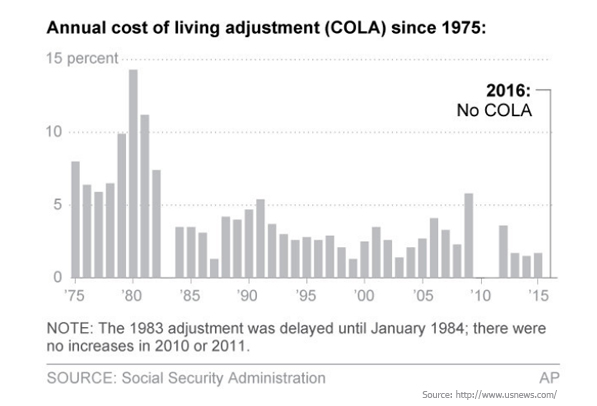 An advantage provided this year is the "hold harmless" protection that will benefit social security beneficiaries who use Medicare (around 70% of Medicare beneficiaries) and whose premiums are deducted from their monthly benefits. This group need not pay a higher Part B premium since there is no COLA for 2016.
However, higher income beneficiaries that are subject to an income adjusted Part B premium and those newly entitled to Part B in 2016 do not have this protection.
Beneficiaries whose Medicare Part B premiums are paid by state medical assistance programs will not see any change in their social security benefit. In their case, the state will have to pay any Medicare Part B premium increase.