Medical evidence plays a crucial role in disability cases as it is used by the Social Security Administration (SSA) to determine if an applicant's physical or mental disability prevents him or her from working. Obtaining reliable medical evidence is essential to support a disability claim, and medical review services are a valuable solution in this regard. Disability attorneys rely on these services to ensure that they have access to all the necessary medical documentation to support their clients' claims. Medical record review firms collect the relevant medical records from healthcare providers who have treated or evaluated the claimant's impairment.
The medical evidence provided to the SSA must be adequate, timely, and correct. Ideally, the claimant's medical records should be no older than 6 months. It must clearly and accurately describe the applicant's condition. The SSA will not accept any inconsistencies in the medical record.
Medical Evidence that Supports SSDI Claims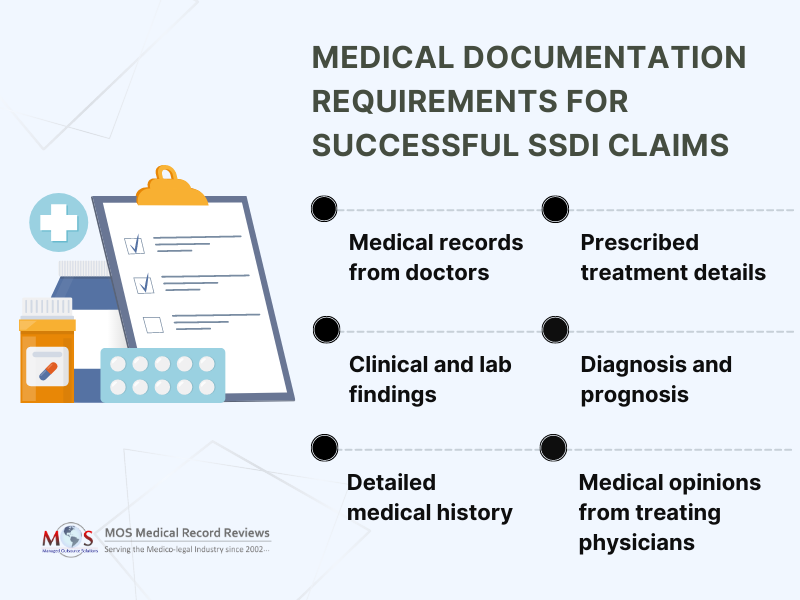 The SSA's acceptable medical sources include licensed physicians, medical or osteopathic doctors, licensed or certified psychologists, licensed optometrists (for visual disorders only), qualified speech-language pathologists (for speech/language impairments only), and licensed podiatrists (for foot and/or ankle problems only). The SSA doesn't accept medical records from chiropractors, massage therapists, or those related to acupuncture, and new age medicine.
Professional medical review companies ensure that a comprehensive set of medical records related to the claim are obtained from various sources. They organize and thoroughly review the records to ensure that the claimant's application is granted promptly.
Need quality medical review solutions?
MOS can help with accurate and detailed review of medical records.