In order to facilitate easy retrieval of crucial patient information, it is imperative to have a centralized system for organizing and storing it. Medical record organization involves sorting, indexing and hyperlinking records.  When medical records are well-organized, it allows attorneys to easily access all pertinent information related to a plaintiff's injury or illness and treatment regimen. This aspect is particularly crucial in legal cases involving personal injury, medical malpractice, workers' compensation, and product liability.
Why Sort, Index and Hyperlink Medical Records?
Evidence extracted from the medical records helps attorneys to flawlessly litigate the plaintiff's case.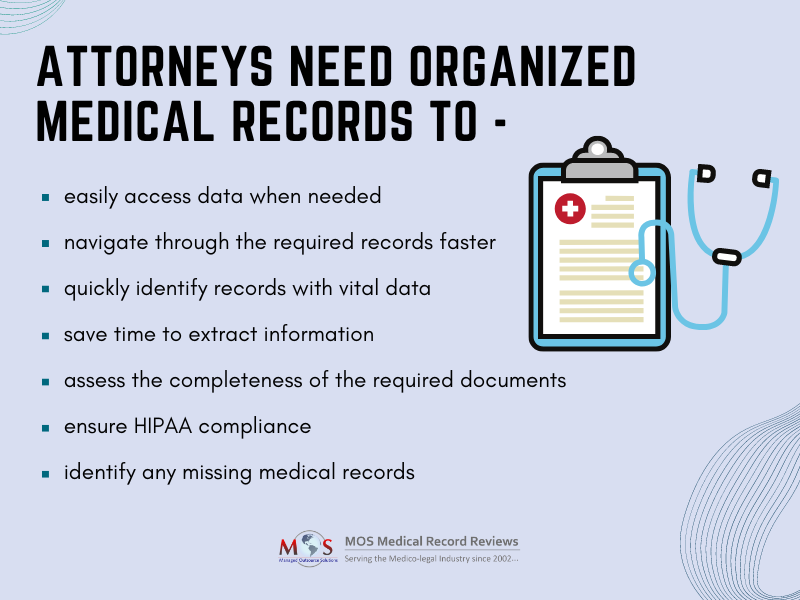 Multiple medical records are required in certain cases. To aid in the litigation process, pertinent information within medical records is classified and sorted. The organized records are then indexed and arranged chronologically, providing a precise timeline of the plaintiff's medical encounters. Four types of records that have to be sorted and indexed are – medical records, radiographs, pathology specimens, and pleadings.
Medical records organization involves closely analyzing document types, categorizing electronic medical records into sections and subsections, sorting documents according to the date range within the section, removing duplicate multiple records, customizing sorting orders, delivering separate duplicate records when requested, and delivering the required documents in PDF format with Tab sheets. With professional support, attorneys can focus on their core competencies without investing valuable time in sorting and indexing records.
Need support with medical record organization?
MOS utilizes the best indexing techniques. Call us at (800)-670-2809!