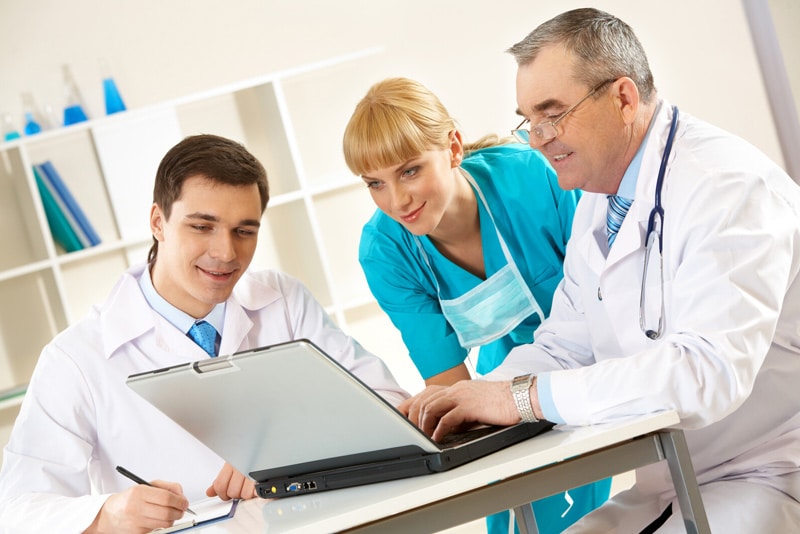 HEDIS (Healthcare Effectiveness Data and Information Set) is a standardized set of performance measures developed by the National Committee for Quality Assurance (NCQA) to evaluate the performance of America's health plans. The NCQA collects HEDIS data using surveys, healthcare insurance claims, and clinical documentation of hospitals, labs, pharmacies and physician offices. They utilize the Healthcare Organization Questionnaire and the Interactive Data Submission System for HEDIS data collection. Medical chart review is a major data source for the NCQA to determine financial rewards/incentives for health plans. The medical documentation is audited by an auditing firm approved by the NCQA and then the HEDIS quality measures are reported publicly. Consumers then use the HEDIS specifications to compare various health plans, clinical quality and local healthcare facilities.
HEDIS is a valuable tool that is also used by more than ninety percent of U.S. health plans to review provider performance on important dimensions of care and service. HEDIS measures assist them in meeting their state and federal regulatory and accreditation mandates, review their performance, and identify areas of improvement on a wide range of major health issues.
Comprehensive medical record review is the crucial step to carrying out an objective comparison of the effectiveness of the patient care delivered. The medical record data is analyzed and HEDIS scores are computed, based on which the standard of patient care is assessed.
HEDIS medical record review can be any one of the following types, or they may be used together.
Administrative: Here the claims for hospitalizations, medical office visits, pharmacy data are reviewed.
Patient survey: Surveys are used to collect data that will help evaluate patient experience.
Hybrid: A combination of administrative data from medical claims and the patient's medical record information.
Significance of HEDIS scores
HEDIS measures serve as effective analytics for enhancing quality improvement processes.
Based on the inferences interpreted from HEDIS scores, preventive care programs can be scaled up.
The health plan's ability to demonstrate its capability to improve its preventive care and quality measurements can be evaluated.
Comprehensive data about the overall health and wellness of the plan's membership is obtained.
Gaps in care and developmental programs/interventions can be identified. This can help increase compliance and improve health outcomes.
HEDIS scores are authentic data that demonstrate the provider's commitment to delivering quality care and improved patient outcomes.
Helps improve patient outcomes and reduces healthcare costs with an emphasis on preventative services.
Helps gather data regarding public health issues that affect large patient populations
Enables providers to evaluate the success of their improvement initiatives.
Why HEDIS Measurements Are Important for Health Care Providers
The HEDIS measurements are a tool for providers to deliver timely and appropriate care for their patients.
Healthcare providers can identify gaps in patient care and eliminate the same.
When there is an increase in HEDIS rates, health practices can enhance revenue through the Pay for Quality, value-based services, and other pay-for-performance models.
The HEDIS measure rates help healthcare providers to comply with incentive programs.
HEDIS Medical Records Review Process
As mentioned earlier, medical records are the main data source used by NCQA to decide upon the requirement of any incentives or financial rewards for health plans. Prior to the review of medical records, it is essential that health practices conduct their own medical records review to ensure that the services rendered are accounted for in an accurate manner. Providers of medical records review services can perform a high-quality review and critical analysis of medical records to maximize HEDIS rates. The accuracy standards are ensured by the abstraction of specific medical data of the patient, focusing on HEDIS measurement requirements and management at each stage of the review process. Following are the steps involved in the HEDIS medical records review process:
Accurate extraction of the medical data elements from the medical records
The services rendered and treatment provided are documented in accordance with the health plan of the patient. This can give insight into the standard of care delivered by the healthcare providers to the patients. It can also highlight the effectiveness of health insurance companies' efforts to scale up preventive health outreach outcomes for its members.
Applying a clinical perspective while reviewing medical records
Medical records are reviewed by making critical connections to demonstrate the health outcomes. The patient data is filtered and these records will be reviewed a second time to identify missed information. The internal quality assurance stringently looks for any erroneous documentation of patient data and checks for non-compliant records.
Faultless coding of claims
Individual health plans have specific codes that are entered clearly and completely.  In addition, billing codes are accurately compiled.
HIPAA compliance
The medical records review team gives utmost importance to confidential patient data. The information released strictly follows the compliance guidelines of HIPAA.
As a medical record review company, we provide our clients with transparent and comprehensive services to scale up HEDIS rates.
FAQS
What is HEDIS?
HEDIS is a set of standardized performance measures mandated by the National Committee for Quality Assurance for evaluating consumer healthcare and stands for Health Effectiveness Data and Information Set.  More than 90 percent of America's health plans use the HEDIS tool to evaluate the performance of important dimensions of care and service. This helps healthcare plans fulfill state and federal regulatory accreditation requirements. Health plans can make necessary revisions on a broad range of important health issues.
How many standardized measures does HEDIS consist of?
HEDIS score is based on 96 standardized measures. You can find more information regarding HEDIS Measures at https://www.ncqa.org/hedis/measures/.
What are the six domains wherein the 96 standardized measures are applied?
Effectiveness of care
Access/availability of care
Experience of care
Utilization and risk-adjusted utilization
Health plan descriptive information
Measures collected using electronic clinical data systems
How are HEDIS rates calculated?
HEDIS rates are calculated using administrative data or hybrid data. The former comprises claim or encounter data that is submitted to the health plan. The latter comprises both administrative data and a sample of medical record data. For hybrid data, a random sample of member medical records is reviewed to abstract data regarding the services that were provided but were not reported to the health plan through claims or encounter data. If the services are not billed, or are not billed accurately, they will not be included in the calculation.
How are the HEDIS scores used?
State purchasers use aggregated HEDIS rates to evaluate health plans' efforts to improve preventive health outreach for plan members. Physician-specific scores are used to evaluate a medical practice's preventive care efforts. A physician practice's HEDIS score determines their rates for physician incentive programs that pay physicians an increased premium such as Pay for Performance or Quality Bonus Funds.
What is P4P or Pay for performance?
P4P is an activity-based reimbursement. It includes a bonus payment that is based on achieving measurable and defined goals as regards access to care, continuity of care, clinical outcomes, and patient satisfaction.
Why is HEDIS important to health care providers?
Providers can ensure timely and appropriate care for their patients with HEDIS.
It helps providers identify the gaps in care and eliminate the same for the patients assigned to their panel.
Providers can enhance their revenue if the HEDIS rates increase. Additional revenue can be obtained through the Pay for Quality, Value Based Services, and other pay-for-performance models.
The incentive programs can be monitored for compliance with HEDIS measure rates.
How can providers improve their HEDIS scores?
Deliver appropriate care within the designated timeframes.
Clear and accurate documentation of the medical records to show that they are providing all that care to the patients.
Ensure that they are accurately coding all the claims.
Make sure that all the HEDIS measures documentation requirements and specific parameters are known.
Respond promptly to the request for medical records within 5-7 business/calendar days.
Is there any patient authorization or consent required for the release of information for HEDIS data collection?
Under the HIPAA privacy rule, the release of information for HEDIS is permissible and patient consent or authorization is not required. The disclosure of patient information is permitted as part of quality assessment and improvement activities.
When are the medical records usually requested from providers?
Typically, the medical records collection begins in January/February of each year. The number of medical records requested from each provider is based on the random sampling of members. High-volume providers may have more records because there is a higher chance of their members being included in the sample. Clinical and non-clinical teams retrospectively review medical charts from the previous measurement year (this year, charts from 2021 are reviewed). The NCQA requires that all medical record reviews are finalized by May 6 every year.
How can the medical records be submitted?
Electronic medical records can be saved as PDF files and uploaded to the health insurer's secure server. Typically, detailed instructions are provided on the health plan's website regarding the medical records submission. Insurers also accept faxed copies of the medical records, or via pick-up facility.
What medical records are needed for review?
The type of medical records requested will be based on the measures the health plan is specifically requesting from the particular office or facility. It may include history and physicals, progress notes, lab reports, BMI percentile and growth charts, height-weight, OB flow charts, and immunization and disease registries among others.
Does HEDIS require hospital visit records?
Yes. HEDIS requires data from all care settings. Hospitals that have ER, physician clinics, outpatient/inpatient services may receive medical record requests for any of these types of visits. Hospitals usually receive the same requests and outreach as clinic/community providers.
Are Utilization Review, DRG, risk adjustment record reviews the same as HEDIS medical record reviews?
No. HEDIS medical record requests are different from such other medical record reviews that are used to determine plan members' health status and ensure accurate medical coding and physician reimbursement.
As a medical record review company providing HEDIS medical record review solutions, we understand how HEDIS scores are becoming more integrated into various practices and initiatives, following the healthcare system's transition towards quality-driven, value-based care.