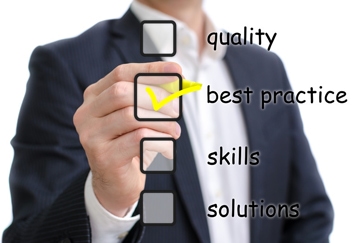 Health plans and government payers conduct Healthcare Effectiveness Data and Information Set (HEDIS) reviews every year from January to mid-May. It is the official 2018 HEDIS review season now, and the right time to think about best practices. Health plans require HEDIS medical record review to measure performance on important dimensions of care and service. Payers participate in HEDIS reviews to improve their Medicare Advantage plan quality measurements, known as Star Ratings. These ratings were developed by the Centers for Medicare & Medicaid Services (CMS) to rate health plan performance for Medicare Advantage programs and Medicare risk adjustment initiatives. HEDIS review measures are one component of the Star Ratings program. A payer's overall rating would also depend on customer satisfaction, pharmacy measures, and operational performance. The data derived from medical record reviews is submitted to third-party vendors that compile the information and submit it to the NCQA (National Committee for Quality Assurance) by the month of May. The NCQA determines and publishes the annual Star Ratings. These ratings are also published annually on the CMS website so that patients and the healthcare industry overall stay informed about the performance of various health plans.
When it comes to improving their performance on HEDIS quality measures, health insurance companies or health plans face challenges such as the administrative burden of handling voluminous data, providers' lack of health IT adoption for reporting HEDIS scores, designing quality reporting scores, and low preventive screening rates among their provider networks. The following best practices can help address these challenges effectively.
Health insurers must properly align their risk adjustment and quality management. Adequate risk adjustment is vital for consumers to compare health plans more fairly based on HEDIS quality scores.
Risk-adjusted data will enable payers to determine whether changes in performance are connected mainly to an organizational factor. This will make it simpler to drive financial incentives or penalties to impact quality improvement.
Statistical analysis is something payers can use to determine whether any performance measures need to be changed or eliminated.
Health plans that face the major challenge of lack of health IT investment on the part of their provider networks could improve documentation tasks via temporary staffing for reviewing and reporting HEDIS scores.
Another measure for payers to improve HEDIS quality scores is population health management and patient data analytics. This involves creating a population health registry and evaluating population health data.

Predictive analytics is used to estimate the healthcare spending of high-risk members, and the data gathered is entered into the population health registry.
The summaries are sent to primary care physicians and nurse care managers every month.
Providers can then reach out to and engage with high-risk patients. Patients who actively participate in provider conversations about their health are more likely to have better outcomes because they are more likely to participate in primary care visits and preventive care.
This will help reduce overall healthcare use and high rates of medical spending.

To ensure that patient outreach is achieved, payers will have to incorporate patient engagement in their clinical quality measures and financial incentives.
Beneficiary incentive programs can be implemented to provide economic incentives to health plan members who display healthy lifestyle preferences such as a gym membership. Medicaid programs in some states include incentives such as cash, meals, transportation, childcare or gift cards. Private health insurers can also follow the same measures and implement good incentives for members.
Payers will also have to ensure provider engagement. Providers are responsible for managing HEDIS quality scores and patient outcomes. When provider engagement is enhanced, there will be an automatic increase in the rates of preventive screening and other patient welfare measures.
Given the importance of HEDIS chart review, payers can follow the above mentioned best practices to increase their HEDIS quality scores across their provider networks and health plans. Smooth communication between providers and payers is important to minimize any kind of conflicts. To benefit payers and providers, reduce operational costs, ease workloads and eliminate redundancies, a pro-active strategy is required. Payers can improve HEDIS quality scores by focusing on improving healthcare documentation and providers' adopting new health IT solutions, increasing preventive screening rates, investing in population health management, improving patient-provider engagement, and expanding value-based care reimbursement. Value-based care reimbursement can help improve quality; close any existing gaps in care, and ultimately enable payers achieve higher HEDIS scores.